Mykonos is an island in the Cyclades group in the Aegean Sea. It's popularly known for its summer party atmosphere.
The 'Island of Wind', Mykonos is best known for its 16th-century windmills, good watersports and outrageous nightlife.
The capital is liberal Mykonos Town (or Chora), where windmills overlook beautiful Little Venice with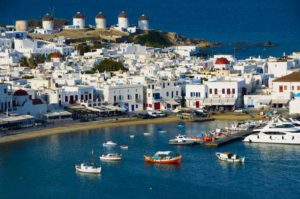 whitewashed houses right on the water. Keep an eye out for Petros the Pelican – the island's mascot – by the beach. The sunsets here are fantastic, but it's after dark that the bars and clubs (including famous Cavo Paradiso) on its cobbled streets kick into life. This is the de facto Greek party island, but unlike less exclusive counterparts Malia and Faliraki, you might struggle to find cheap Mykonos hotels here.
A complete contrast is laidback Kalafati, popular with windsurfers. Good for surfing is Ornos, while next door Aghios Ioannis was the setting for the 'Shirley Valentine' film. Its sandy beach offers views of uninhabited Delos island whose archaeological sites are UNESCO World Heritage listed.
Elia has the longest beach, while around the coast is Platis Gialos, a popular resort with a good number of Mykonos hotels on the beach on Booking.com. Glass-bottomed boats departing from here give great views of local sealife.
Cruise ships dock at Tourlos and the turquoise waters of neighbouring Aghios Stefanos are sheltered by low hills. Inland, peaceful Ano Mera provides a taste of more traditional Mykonos life.
Geography
The island spans an area of 85.5 square kilometres (33.0 sq mi) and rises to an elevation of 341 metres (1,119 feet) at its highest point. It is situated 150 kilometres (93 miles) east of Athens in the Aegean Sea. The island features no rivers, but numerous seasonal streams two of which have been converted into reservoirs.
The island is composed mostly of granite and the terrain is very rocky with many areas eroded by the strong winds. High quality clay and baryte, which is a mineral used as a lubricant in oil drilling, were mined on the eastern side of Mykonos until the late 1900s.
It produces 4,500 cubic meters (160,000 cu ft) of water daily, by reverse osmosis of sea ater in order to help meet the needs of its population and visitors.
The island has a population of nearly 12,500, most of whom live int he main town of Chora
Climate – Best Time to Visit
Mykonos has a dry Mediterranean climate, with warm to hot weather May–Sep. The island gets packed Jul–Aug, when the beach party scene is in full swing. The Mykonos Biennale (Jun–Jul, in odd-numbered years) features art and short films in historic buildings. The rest of the year is much quieter, with harvest festivals, religious celebrations and a short, mild winter (Dec–Feb).
Although temperatures can rise as high as 40 °C (104 °F) in the summer months, average high temperature is around 28 °C (82 °F) and because of the seasonal cool "meltemi" wind, summer days are dry, sunny and pleasant. In the winter, average high temperature is around 15 °C (59 °F). The winters in general are mild and wet, with many sunny days still even in mid-winter. Snow is infrequent and doesn't stay long on the ground when it falls.
Photos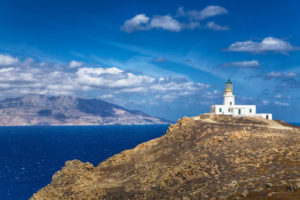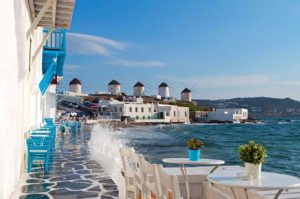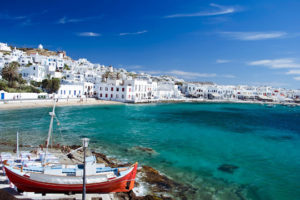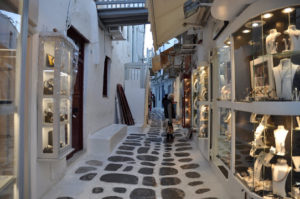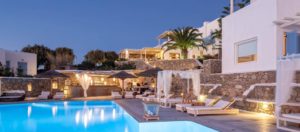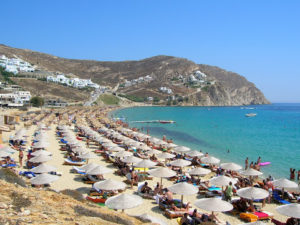 Video

Location